Premier League officials could reportedly receive offers from Saudi Arabia 
Officials could be drawn by substantially bigger salaries than offered in Europe
Mail Sport's new WhatsApp Channel: Get the breaking news and exclusives here
Former Premier League referee Mark Clattenburg has warned officials risk missing out of major tournaments if they are tempted to work for the big-spending Saudi Pro League.
Referees from the Premier League and Europe are reportedly being sounded out over potential moves to Saudi Arabia.
The pursuit of top officials is viewed as the next step in the development of the Saudi Pro League after vast spending during the summer transfer window.
International referees have been used by the Saudi Pro League for exceptional matches, with officials travelling from New Zealand, Paraguay, and Argentina to oversee games.
The league are claimed to be considering making long-term offers to top officials.
Mark Clattenburg warned referees risk missing major tournaments by moving to Saudi Arabia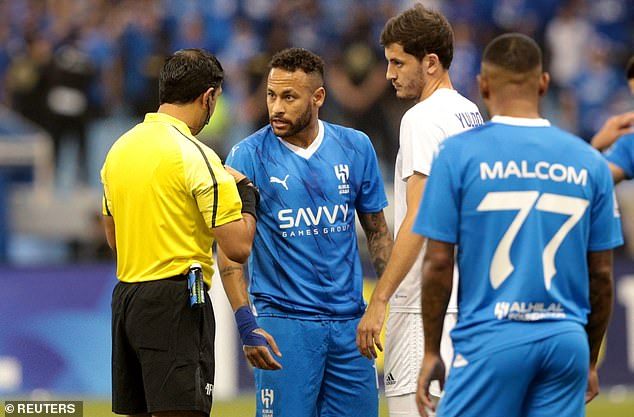 The Saudi Pro League is intent on developing their league to the highest standard and, after a summer of spending, could now turn their attention to officials
Your browser does not support iframes.
Clattenburg served as Saudi Arabia's director of refereeing from 2017-18, quitting his role as a Premier League official to take the position.
The move came just a year after Clattenburg had overseen the FA Cup, Champions League and Euro 2016 finals.
Clattenburg told the Times that he had been unaware when making the move that he would be blocked from refereeing at the World Cup or European Championships.
The 48-year-old said Premier League officials would have to weigh up that prospect before potential taking a big-money offer from Saudi Arabia.
'My problem with the idea of having full-time referees going there from Europe is that I can't see referees giving up the chance to referee in the Champions League, Euros or World Cup unless they are at the end of their career,' said Clattenburg, who now works in Greece.
'I thought I would be able to still go to the World Cup taking one of the European places but FIFA and UEFA insisted I should be viewed as a Saudi referee and I did not want to…
Click Here to Read the Full Original Article at Latest Football Transfers News and Rumours | Mail Online…